Before you arrive
Getting to Cuba as a US citizen is relatively easy, despite tourism not being officially sanctioned by the US government (technically, generic tourism is still covered by the embargo). That said, flying to Cuba can be done pretty easily by flying through Mexico.
Book a round-trip flight from US to Mexico. We recommend flying through Mexico City or Cancun, as both have daily direct flights to Havana. Book a separate round-trip flight from Mexico City or Cancun, to Havana. Under $400 USD round-trip is a good price for the Mexico-Havana leg. Allow at least a two hour buffer between flights to allow time to make connections since you'll have to go through Mexican customs. Some Cuban airlines won't take US credit cards, in which case you can get around that issue by finding a Canadian travel agent, or a friend with a foreign credit card, to buy your flight. If you do go with the Canadian travel agent, decline the tourist visa from them.
A tourist visa can be purchased at the Cubana airline counter in the Mexican airport for $25 USD, cash only (bring exact change for this). This visa will be stamped upon arrival in Cuba and collected upon departure.
When leaving Cuba, we recommend you decline the exit stamp in your passport. While the Cuban stamp might be a fun souvenir, you do not want to have to answer US border agent questions about your Cuban stamp.
Things to bring
Wearable luggage/backpack within the carry-on limited is recommended for easy transit between locations. Cuba uses US power outlets so there's no need for an adapter. For non-Spanish speakers, download the Google Translate app on your phone and download the offline Spanish language pack. English is not widely spoken and you probably won't have WiFi or cell connectivity, so having offline resources are key.
Download an offline mapping app that uses OpenStreetMaps data. We recommend MAPS.ME for Android and for iOS. Once again, also be sure to pre-download the offline maps for Cuba, inside of the app.
Money
Cuba has a dual currency system. Cuban Convertible Pesos (CUCs, pronounced kooks) are pegged to the dollar and exchanged to tourists at Cuban banks. Cuban National Pesos (CUPs) are mostly used by locals and street vendors. We recommend you bring either Euros or Canadian dollars as there is an additional 10% tax when exchanging USDs. Most larger branches of banks in the US can sell you Euros or Canadian dollars.
For a week long trip, approximately $700 USD is sufficient for a budget-conscious traveler to have fun and eat well. A $1000-$1200 budget allows for more luxuries covering the needs of most travelers.
Only exchange money at banks. There is a lucrative scam in Cuba, where locals will offer to exchange money for you, and instead of giving you CUCs for your foreign money, you will receive Cuban National Pesos. Using a bank guarantees that you only ever get CUCs, which are worth 30 times a Cuban National Peso.
Accommodations
Hotels tend to be expensive ($130+ / night), inconsistent in quality, and marred by unexceptional food. All hotels are nationalized with kitchen cooks trained by the same state department.
Casa Particulares, or guest houses, are in-house stays with Cuban locals. Guest houses are registered with the state and cost $30 per room/night. Breakfast is provided for an additional $5 per meal. Some guest houses offer dinner for around $10, depending on what's prepared.
Before arriving, research three Casa Particulares online and write down the addresses so you can direct the taxi driver from the airport. Even if a guest house is occupied, the host can help you arrange accommodations in a different guest house. We recommend staying in the Habana Vieja or Vedado neighborhoods of Havana for your first night of stay. Once you have a better feel for the city, ask your host to help you find a place in another neighborhood or city.
Since mid 2015, some guest houses are listed and bookable on Airbnb. This should make finding good guest house options much easier.
Havana
Havana, the largest city in Cuba, bears a distinctively Caribbean flair. Life is at once exotic and dreary. Impeccably maintained colonial-era plazas are juxtaposed with bleak, concrete ruins. Stroll with locals along the Malecón sea wall, eat ice cream at Parque Coppelia, and sit front-row for some world class jazz, all in a day.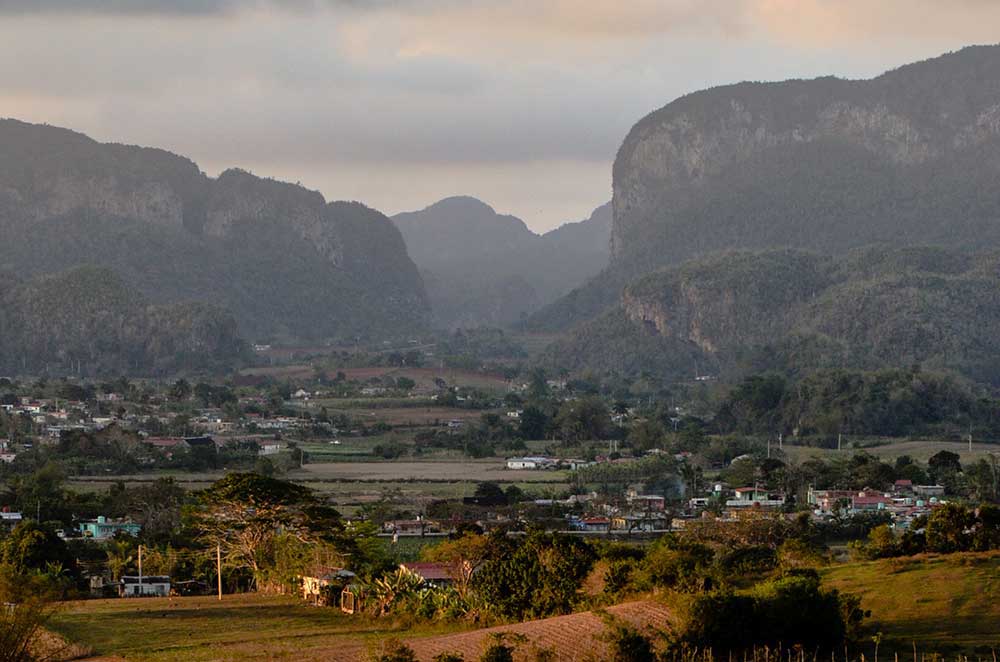 Viñales
Viñales is a small town situated in the heart of the picturesque region of Piñar del Rio. Take the two hour taxi ride from Havana to enjoy a slower pace of life, stroll through tobacco fields, enjoy delicious home-cooked meals and soak in the life of rural Cuba.
All of our map-based travel guides and itineraries are selectively curated by fellow travel enthusiasts.
Questions or suggestions? Let us know at contact@fixertravel.com. If you like the guides, please feel free to share with your friends!